[ What's New ] [ Our Authors ] [ Online Catalog ] [ Our Services ] [ Request a Catalog ] [ Info ]
Faith Walk
The Adventures of Ann Baines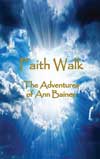 by Baines, Ann
ISBN: 9781581581935
Price: 15.99 (176 pages)
Internet Price: 13.59
Books per carton: 28
Tradepaper 5 x 8

Reverend Ann Baines, or Sister Ann, as she is so affectionately called, is an anointed woman of God who has for many years now served the nations and been a spiritual mother to many in the Body of Christ. Gods salvation grace was applied to her own life in 1971, and she never looked back since. Recognizing that children are our future, Sister Ann spent thirteen years as a youth pastor and began her training as an evangelist.

Buying an item: Please send email to publishing@mcdougal.org with your shipping address. A Paypal request will be sent for payment.