[ What's New ] [ Our Authors ] [ Online Catalog ]
Threads of Gold
Awakening the Bride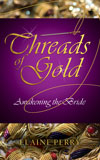 by Perry, Elaine
ISBN: 9781581581850
Price: 17.99 (320.0 pages)
Internet Price: 15.29
Books per carton: 25
Tradepaper 5 x 8

This is a book written for those who desire to be part of Gods Remnant Bride, made up of the whosoever wills from every tongue, tribe, and nation, and the message of it is to be awakened now to His love. This requires times of intimacy in His presence. In the days ahead, His glorious Bride will be clothed in the fragrance of His presence because of time spent with Him, and will have experiences from the journey that will speak to others of His great love, grace, and mercy toward all

Books are available on Amazon.com, Barnes and Noble, Baker and Taylor and through your local bookstore.