[ What's New ] [ Our Authors ] [ Online Catalog ]
Love: God's Gift to You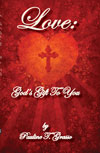 by Grasso, Pauline T
ISBN: 9781581581249
Price: 11.99 (160 pages)
Internet Price: 10.19
Books per carton: 42
Tradepaper 5 x 8

When the Lord told me I was to write a book on love, I was delighted. After all, He had brought me through many hard times and through those hard times had revealed to me more and more of His great love for me. I came to call it my love journey. Now, as I share with you this love journey, I trust that it will be a revelation of Gods great love, not only as it came to me, but also as it can come to you, for, as always, He is no respecter of persons. I am able to share my love journey with you because I kept a detailed journal of my experiences and since then have continued to journal as a way of recording what God speaks to me. The result is that I have a very detailed record of how, when I had reached the bottom and felt the Lord had forsaken me, He gradually unfolded His great love for me. May this unfolding now be a blessing to you. Pauline Grasso

Books are available on Amazon.com, Barnes and Noble, Baker and Taylor and through your local bookstore.