[ What's New ] [ Our Authors ] [ Online Catalog ]
Get Info My Boat - Let's Go Fishing
An Inspirational Collection of Answered Prayers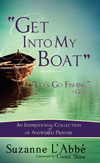 by L'Abbé, Suzanne
ISBN: 9781884369346
Price: 12.99 (208 pages)
Internet Price: 11.04
Books per carton: 56
Tradepaper 5 x 8

I have had the pleasure of knowing Suzanne for over 30 years and this book is a graphic description of her experiences and deep faith in God. . In this book she reaches out to a world where such ideas are an anathema, to try and demonstrate the power of faith Khurseed Jeejeebhoy MBBS, PhD, FRCPC Emeritus Professor of Medicine Suzannes child-like faith and holy boldness are very evident in her everyday life to all of us who know her&.. As you read these faith-building testimonial stories, may you receive your miracle. The Lord has used her to bring breakthrough in my life as He has in countless others because of her surrendered life. Pastor Carol McLean Jehovah Jireh Christian Ministry

Books are available on Amazon.com, Barnes and Noble, Baker and Taylor and through your local bookstore.