[ What's New ] [ Our Authors ] [ Online Catalog ]
Prophetic Stones of Remembrance
A Legacy for the End Times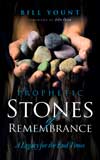 by Yount, Bill
ISBN: 9781581580990
Price: 11.99 (176 pages)
Internet Price: 10.19
Books per carton: 52
Tradepaper 5 x 8

Some time ago the Lord spoke to me and said, "hopelessness is an epidemic in the Western church." What a tragic condition for us to be in. How can we be the stewards of the gospel of good news when so many are smitten with a sense of despair and lack of vision. That is precisely why we need the words of edification, exhortation and comfort provided by Bill Yount in his new book, 'PROPHETIC' STONES OF REMEMBRANCE...A Legacy For The End Times. Paul Keith Davis WhiteDove Ministries Bill Yount's unique style in the prophetic invites us to perceive both the nature of God and His purposes being worked out in the earth in creative and imaginative ways. Allow your adventurous spirit to be awakened as you glean from these inspiring and edifying messages from the flow of his gift! Dr. Mark J. Chironna Mark Chironna Ministries The Master's Touch International Church Orlando, Florida

Books are available on Amazon.com, Barnes and Noble, Baker and Taylor and through your local bookstore.