[ What's New ] [ Our Authors ] [ Online Catalog ]
In the Shelter of His Wings
The True Story of a WWII Bomber Pilot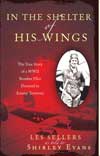 by Evans, Shirley
ISBN: 9781581580839
Price: 12.99 (192 pages)
Internet Price: 11.04
Books per carton: 48
Tradepaper 5 x 8

When we say September 11 a day of horrible tragedy flashes through each of our minds, but Lt. Leslie Sellers experienced his own September 11 many years before the one we all remember so well. On September 11, 1944, during WWII, this fun loving, adventurous 25 year old faced his own day of tragedy and had it not been for his mothers prayers and his Gods protection, that date would now be engraved on his tombstone. As you read this book you will relive with Les the paralyzing fear of being down behind enemy lines with no one to rely on but God Himself. This book will change the way you look at life and death and will challenge and empower you to face the enemies in your life with a new understanding of Gods awesome presence and love.

Books are available on Amazon.com, Barnes and Noble, Baker and Taylor and through your local bookstore.