[ What's New ] [ Our Authors ] [ Online Catalog ]
Quienes somos en Cristo
Experimentando nuestro vedadero potencial a traves de la comprension de Jesus Cristo y su labor en nosotros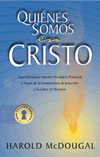 by McDougal, Harold
ISBN: 9781581581539
Price: 14.99 (168 pages)
Internet Price: 12.74
Books per carton: 44
Tradepaper 5 x 8

The Spirit of God is urging us as believers to stop settling for second best, to realize who we are and to take our rightful place. Who we are is directly related to Who Christ is, for we are identified with Him. We are to become what He is. With Him we are everything, and without Him we are nothing. Through Him we can do everything, and without Him we can do nothing. We have a meaningful future only in Christ. So to discover who we are we must discover Who He is. The more we discover about Christ, the more we understand our potential, our own future, and our own identity, for it is eternally intertwined with His own.

Books are available on Amazon.com, Barnes and Noble, Baker and Taylor and through your local bookstore.