[ What's New ] [ Our Authors ] [ Online Catalog ]
America's Hope
In Troubled Times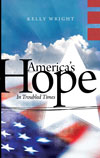 by Wright, Kelly
ISBN: 9781581581553
Price: 14.99 (224 pages)
Internet Price: 12.74
Books per carton: 48
Tradepaper 5 x 8

For nearly thirty years now, Kelly Wright has been reporting on major news events, and in the process, he has interviewed many popular newsmakers, including President Barack Obama (when he was Senator), First Lady Laura Bush, Muhammad Ali, John Travolta, Nick Jonas, Ludacris and O.J. Simpson. A familiar face to millions who watch Fox News, Kelly Wright is the co-anchor of Americas News Headquarters Weekend and former co-host of Fox and Friends Weekend. He also reports for Fox News on events that shape our world from Washington. Kellys experiences in news have placed him on the front lines in Iraq, in Africa, in London and Paris, and at the White House, Pentagon, U.S. Capitol, and other places of influence. A two-time Emmy Award winner (Capitol Region), Kelly offers a unique perspective to his craft. Beyond his anchoring and reporting, Kelly is an ordained minister and Gospel recording artist. He encourages people through his passionate preaching of the Good News in a bad-news world. As a singer, hes performed on programs featuring Shirley Caesar, Cissy Houston, Jonathan Butler, the late James Brown, and many others. He sings songs that motivate, inspire, and promote hope in a time of widespread hopelessness. In this book, Kelly candidly discusses politics, racism, and the role of faith in a world that is increasingly more cynical.

Books are available on Amazon.com, Barnes and Noble, Baker and Taylor and through your local bookstore.