[ What's New ] [ Our Authors ] [ Online Catalog ]
Last Awakening, The
A Call to Repentance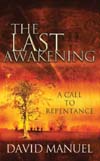 by Bagwell, Tim
ISBN: 1-58158-082-7
Price: 7.99 (96 pages)
Internet Price: 6.79
Books per carton: 92
Tradepaper 5 x 8

Using recent Providential history like a hammer of hope, The Last Awakening, caused my heart to be riveted on Revival in America. Now we must seize the day, repent and pray. David Manuel has sounded the trumpet again. Lou Engle Anyone who reads or sees the news is aware that we seem to be descending into a new dark age, with each day bringing fresh cause for despair. But appearances can be deceiving. The gathering darkness is being pierced by astonishing rays of hope, as chronicled by bestselling author David Manuel. The hand of God is moving across the land, awakening those called by His name. A young camper in a pine forest is taught to double-douse his cooking fire. Embers can smolder under the pine needle carpet for days, their hidden fire spreading, until suddenly it bursts forth in a conflagration. That is the nature of the coming revival. We cannot save ourselves,the author writes,or our country. But God can. And He will, if those who love Him, heed His call to repentance. But we must do so at once. It will be our last chance. I know of no one who has captured Gods heart for America from our inception as a nation up to this present day more than David Manuel. If this forerunners words are heeded, America can be saved, for I am convinced that in The Last Awakening, David is downloading to us Gods passion and prescription for the healing of our land.Dutch Sheets

Books are available on Amazon.com, Barnes and Noble, Baker and Taylor and through your local bookstore.